---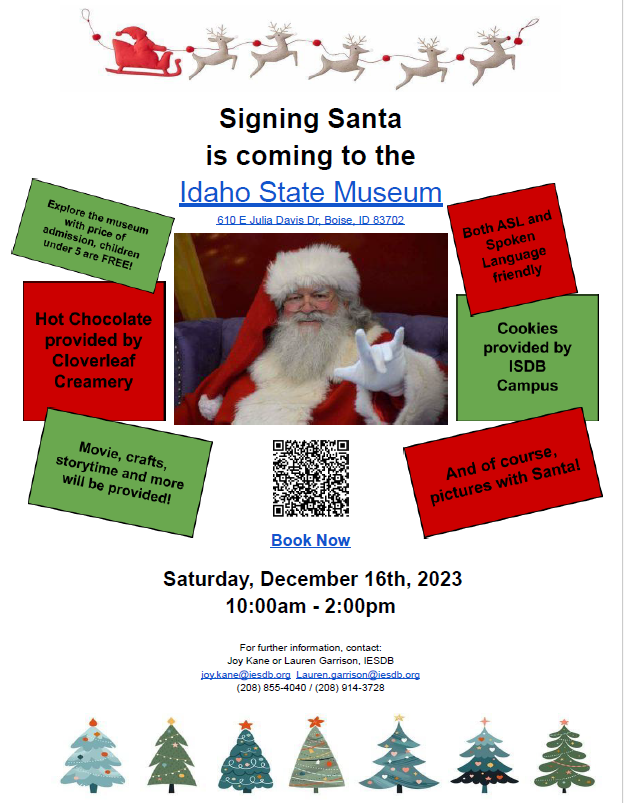 IESDB would like to share information with you!
🎅🔔 Gather 'round, families of Idaho! 🎉
🎶 Ho! Ho! Ho! Exciting news awaits! 🎶
🎅 Santa Claus is coming to town, and not just any Santa – it's Signing Santa! 🤶✨
🔔 Picture this: A magical day at the Idaho State Museum filled with joy, laughter, and the enchanting presence of Signing Santa himself! 🎅🤟
🎊 So, parents, gather your little ones, spread the word, and make your way to the Idaho State Museum for a day filled with merriment and the jolly presence of Signing Santa. Let the magic of the season unite us all in joy and celebration! 🎄🎁
🔔 Don't miss out on this enchanting opportunity! See you there! 🎅🤶
——————————————–
Idaho State Museum
610 E Julia Davis Dr, Boise, ID 83702
———————————————-
For further information, contact:
Joy Kane or Lauren Garrison, IESDB
joy.kane@iesdb.org Lauren.garrison@iesdb.org
(208) 855-4040 / (208) 914-3728
---
Contact us if you have any questions!