Full or Part Time Merchandise Associate.
Multiple positions available 
TJMaxx
TJMaxx associations bring our business to life, and we aim to support them by making TJX a terrific place to work.
Location: 8345 W. Franklin Boise, Idaho
Closing Date: Open until filled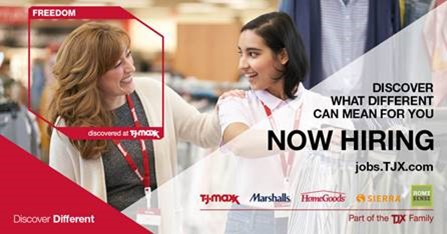 ---
Maintaining a clean and organized store environment. Adheres to all operational, merchandise, and loss prevention standards. May be cross trained to work in multiple areas of the store in order to support the needs of the business.  Responsible for delivering a highly satisfied customer experience demonstrated by engaging and interacting with all customers, embodying customer experience principals and philosophy.
At TJ Maxx there's so much potential to discover something new. A new day means new merchandise, and a fresh chance to reinvent retail. Discover Different means that we want you to bring your whole self and your sense of style to work with you every day – just as Associates do throughout the entire TJX family, which includes Marshalls, HomeGoods, Sierra, and Homesense.
Discover Different also means we embrace each other's differences and unique perspectives. We consider all applicants for employment without regard to race, color, religion, gender, sexual orientation, national origin, age, disability, gender identity and expression, marital or military status. We also provide reasonable accommodations to qualified individuals with disabilities in accordance with the Americans with Disabilities Act and applicable state and local law
---
Able to work a flexible schedule to support business needs.  Company will work around your availability for PT associates.
Possesses strong organizational skills with attention to detail
Possesses excellent customer service skills
Capable of handling multiple tasks at one time
Able to respond appropriately to changes in direction or unexpected situations
Possesses strong communication skills
Capable of lifting heavy objects with or without reasonable accommodation
Works effectively with peers and supervisors to accomplish tasks
---
Role models established customer experience practices with internal and external customers
Supports and embodies a positive store culture through honesty, integrity, and respect
Accurately rings customer purchases/returns, and counts change back to customer according to established operating procedures
Promotes credit and loyalty programs during customer interactions
Maintains and upholds merchandising philosophy and follows established merchandising procedures and standards
Accurately processes and prepares merchandise for the sales floor following company procedures and standards
Initiates and participates in store recovery as needed throughout the day
Maintains all organizational, cleanliness, and recovery standards for the sales floor and participates in the maintenance/cleanliness of the entire store
Provides and accepts ongoing recognition and constructive feedback
Adheres to all labor laws, policies, and procedures
Supports and participates in store shrink reduction goals and programs
Participates in safety awareness and maintenance of a risk-free environment
Performs other duties as assigned
---
---
* Any reference obtained from this server to a specific product, process, or service does not constitute or imply an endorsement by the Idaho Council for the Deaf and Hard of Hearing or the State of Idaho of the product, process, or service, or its producer or provider. The views and opinions expressed in any referenced document do not necessarily state or reflect those of the Idaho Council for the Deaf and Hard of Hearing or the State of Idaho.