Sliverwood Theme Park Discount
Thursday May 25, 2023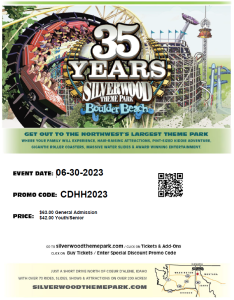 Silverwood Theme Park is giving a promotional discount for the Deaf Community!! The Ticket will go on sale on May 24th. Thank you, Silverwood Theme Park, for arranging it.
When: Friday June 3o, 2023
Price: $63.00 for General Admission and $42.00 for Youth/Senior
Please use the code for a discount. Scan the QR code or go to the CDHH website on the announcement box to download or print. More details will follow for the specific shows with the interpreters. (I will add details once I get the information).
Please share this with your family and friends!